Ithaa Undersea Restaurant, Rangali Island, Maldives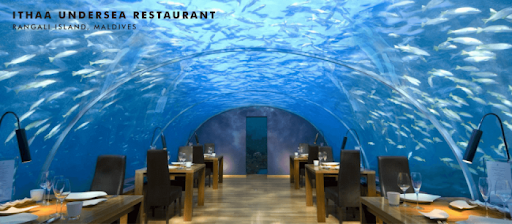 Rangali Island Resort is an underwater restaurant in the Maldives. Opened in 2005, this restaurant has a capacity of only 14 diners, is located 5m below sea level, and built completely with glass. When dining here, you will have a panoramic experience of the lives of the local undersea creatures.
Waterfall Restaurant, Villa Escudero, Philippines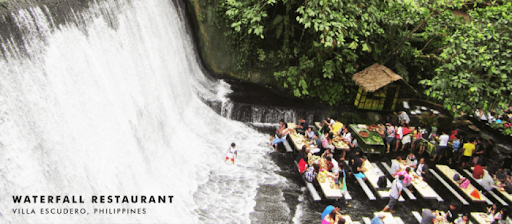 Waterfall Restaurant gives diners a wonderful experience of enjoying a meal right at the foot of a waterfall. Under normal circumstances, getting too close to the waterfall can be dangerous, but this restaurant is actually very safe.
Dinner in the Sky Restaurant, Montreal, Canada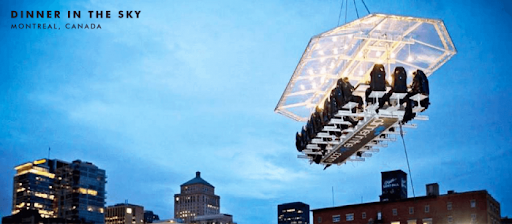 This restaurant is not for the faint of heart, especially those with a fear of heights. Diners are strapped to the dining chair and sit at a height of nearly 50m above the ground. This type of aerial restaurant is becoming more and more popular all over the world.
The Salt & Sill Floating Restaurant, Sweden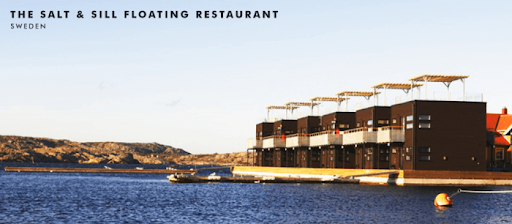 This seafood restaurant has a total of 23 rooms, each with its own outdoor sitting area, especially the most VIP room has a private jacuzzi on the roof.
Redwoods Treehouse Restaurant, Warkworth, New Zealand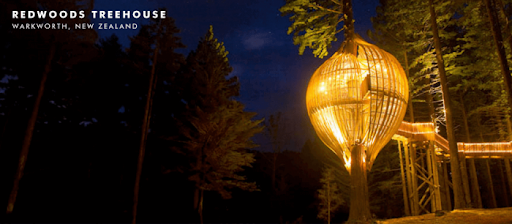 This palm-shaped tree restaurant was built in 2008. Diners will dine in a tree more than 32 meters above the ground, with a small walkway in the treetops. This wonderful restaurant can accommodate 30 guests.
Mineshaft Restaurant, Lohja, Finland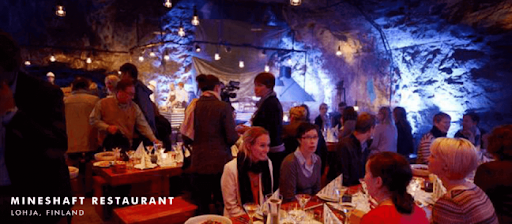 To enter this quaint restaurant, diners have to go down to the bottom of a mine shaft in the Finnish town of Lohja. It is known that this mine is 115 years old, 380m deep, and used to be a limestone mining site. After being renovated, the underground restaurant can accommodate about 64 people.
Airplane restaurant, Coventry airport, UK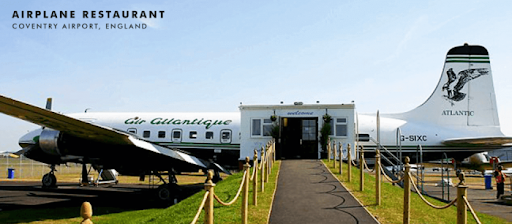 This restaurant is located in a Douglas DC6 aircraft, including a bar with a capacity of 40 seats. The appearance of this restaurant makes diners feel like they are sitting on an airplane in the sky.
Bank Vault Restaurant, Colorado, USA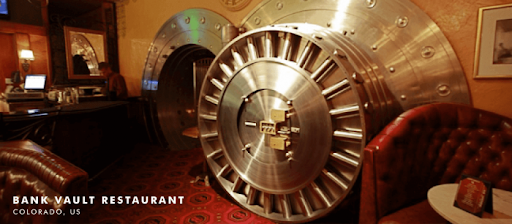 The Bank Vault restaurant is located in the old Denver National Bank building. This is where the bank keeps its important safes. Diners can also visit the basement 10m deep underground.
Ali Barbour's Cave Restaurant, Diani Beach, Africa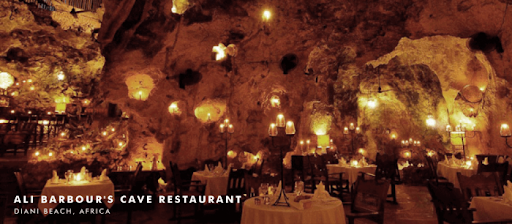 This delightful restaurant will give diners an experience of what it was like for ancient people to live in a cave. The walls here contain fossilized seashells. It is cool inside the cave, suitable for a romantic dinner.
Carton King Restaurant, Taichung, Taiwan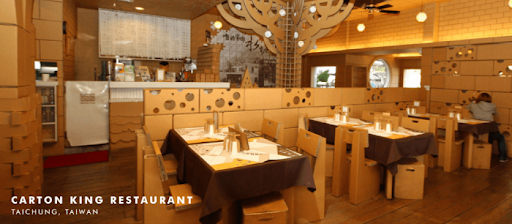 In this restaurant, except for food and some cutlery, everything inside is made of paper and cardboard. You can come here to experience sitting on cardboard chairs, drinking water from cardboard cans, paper dishes… It can be said that this is one of the few truly environmentally friendly restaurants.