Owner Yada Ornsomjit, from in Lamphun, northern Thailand, said she was shocked when she woke up on Saturday morning (20 July) and saw that her dogs looked like the Incredible Hulk!
The adorable French bulldogs raided her kitchen cupboard and got into green food coloring after she accidentally left her kitchen door open overnight:
"I forgot to shut the kitchen door the night before. But I couldn't believe they went inside and made everything green," Ornsomjit said, according to the Daily Mail.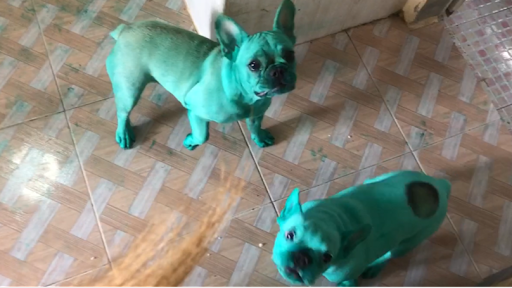 The dogs had managed to not only turn themselves green but had spread the coloring across the kitchen floor and other parts of the house:
"My husband and I spent half a day washing them about three times but some parts of their bodies were still green. We were really tired but they seemed not to know what they had done wrong."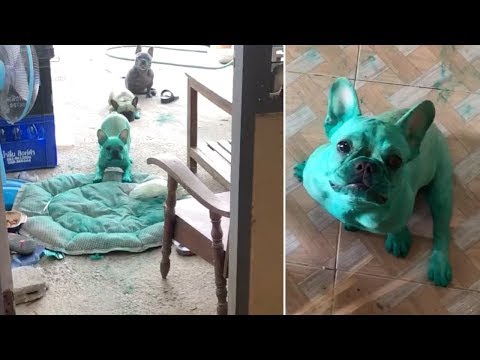 Fortunately, most food coloring is water-soluble and should rinse right off. But if you are still having trouble cleaning your dog you can try the following methods:
1. Brush problem areas daily to cut down on stains as they are likely to build up under the eyes, around the mouth, and under the dog's nails.
2. Wash the stained areas with a regular dog shampoo, but makes sure not to do it more than 2-3 times as the shampoo can start to irritate your dog's skin.
3. You can try dabbing some witch hazel into the stained fur. Leave the stain to soak for five minutes, rinse with water and shampoo away any residue.
Woman Accidentally Dyes Her Cat Yellow. Pics Leave Internet Amused
The Internet is in love with a yellow cat. Yes, you read that right. While bright yellow cats may not be readily found in nature, a concerned pet parent in Thailand accidentally transformed her feline into something resembling Pikachu with a turmeric scrub. According to Ladbible, Thammapa Supamas from Thailand was worried after she noticed her beloved pet cat had developed a fungal infection on one of its limbs. To treat the infection, she decided to apply a turmeric scrub on the white cat.
Big mistake.
While turmeric or haldi is prized for its antifungal and antibacterial properties, it also stains easy. Ms Supamas learned first-hand just how easily it stains when she ended up dyeing her cat yellow with the turmeric scrub.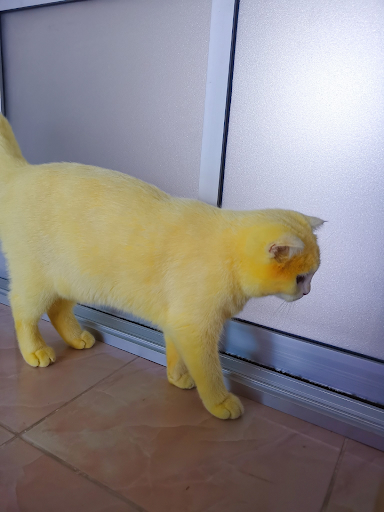 Photos shared on Facebook two days ago show the poor cat with her fur transformed into a brilliant bright yellow from its usual snow-white hue. 
The pictures have gone viral on social media, collecting thousands of 'likes' and amused comments. Many compared the unnamed cat to Pikachu the pokemon, while Harry Potter fans remembered a memorable spell from the first book of the superhit series.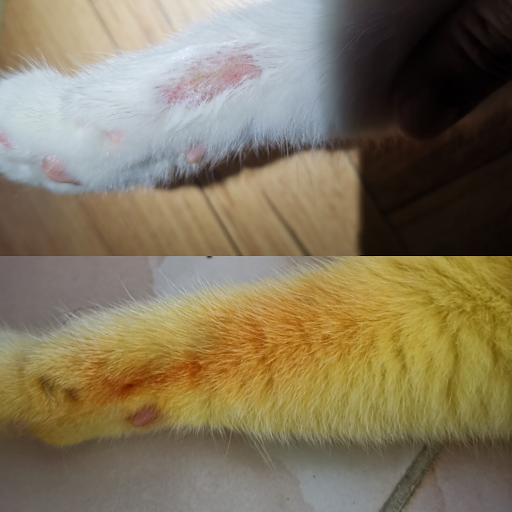 "Sunshine, daisies, butter mellow, turn this stupid fat cat yellow. Ron was just goofed up a spell for cats," wrote one person on 9Gag.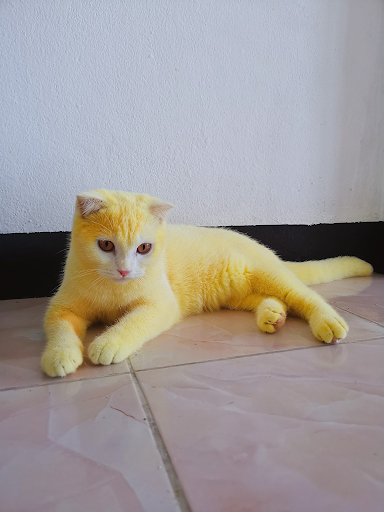 "I want my own Pikachu toooooo!" another said.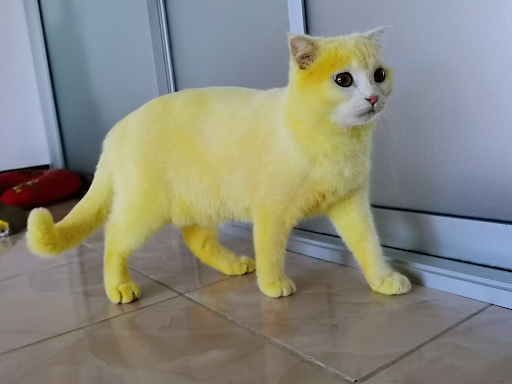 The cat's owner also shared a few digitally-altered pics comparing her pet to the pokemon, according to Mashable.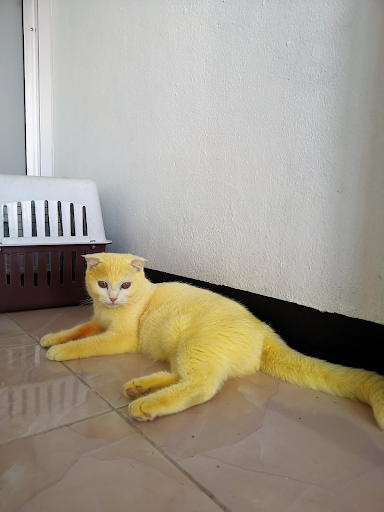 The good news, however, is that the remedy seems to have worked, for Ms Supamas also shared photos of the cat's limb healing after the turmeric treatment.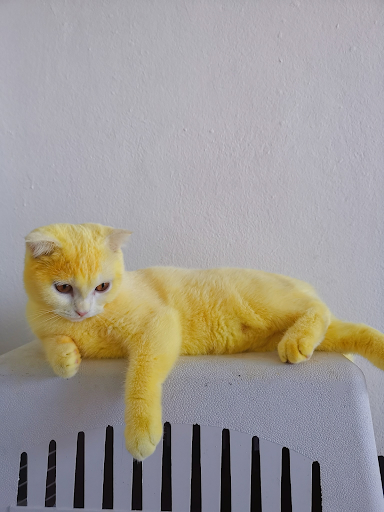 Is it Okay to Dye Your Pet's Fur? 
It's not exactly uncommon to spot a dog with orange ears or even leopard spots dyed into their back. Perhaps you've even seen a cat with tail the colors of the rainbow. People are more invested in their dogs and cats than ever, and for many pet parents, fur dyeing is another form of showing off how awesome they are. For some owners who like to color their own hair crazy colors, it may even be viewed as a form of bonding.
But is dyeing your pet's fur safe?
The short answer is yes, it is possible to safely dye your pet's fur. But before you reach for the hair color to create your own real-life pink panther, you need to make sure you're taking the proper precautions.
What are the risks with dyeing pet fur?
One of the biggest risks with dyeing pet fur is that many pet owners go into it thinking that it will be the same process as dyeing human hair. However, human hair dye should never be used on pet fur. It also should go without saying that animals are not likely to be as tolerant of the dyeing process, particularly if things become uncomfortable.
"Just like with people, risk exists for contact sensitivity, irritation, or burns to the skin even with those dyes deemed safe," explains Trupanion veterinarian Dr. Caroline Wilde. "If the dye is in contact with the skin, it can also be absorbed systemically, so it is very important to critically examine the ingredients of any fur dye."
Cats can be even riskier to dye than dogs, even when safety precautions are in place. This is because they self-groom regularly and can easily ingest the coloring.
In one tragic 2015 incident, a kitten died from toxic ingestion after licking its fur that had been colored hot pink. However, it is unclear what kind of dye was used.