Lindsey Zubritsky, known as @dermguru on TikTok with 1.1 million followers, shared a video highlighting the body parts that need more attention when it comes to washing.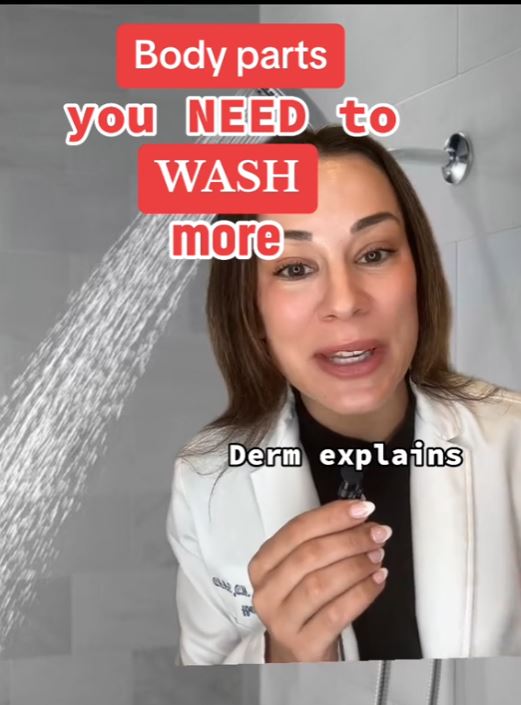 She told viewers 'These are the places that you're definitely not washing enough. I'm a dermatologist and you absolutely need to be washing these places more often than you are.'
Behind your ears: 
In the footage, the dermatologist explained that the first place that many people do not wash enough is behind their ears. She recommended rubbing behind the ears and checking for any odor or unusual sensations, you should be washing it more.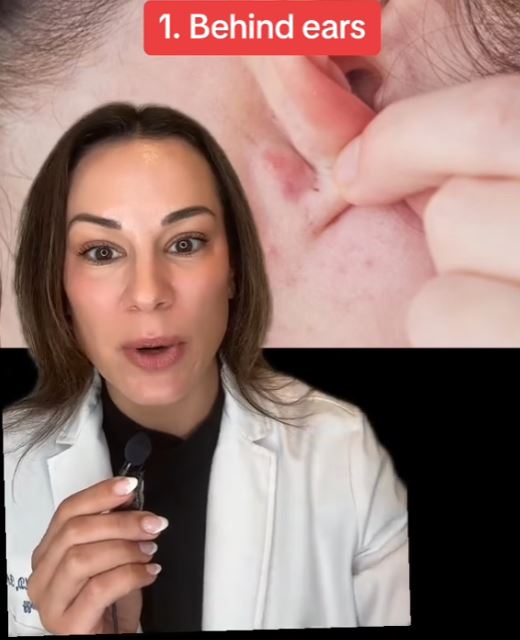 This area is also prone to the buildup of flaking skin, similar to dandruff.
Your belly button: 
In the next part of her video, the dermatologist emphasizes the importance of washing your belly button adequately. She explained that this area commonly collects sweat, debris, dirt, and build-up.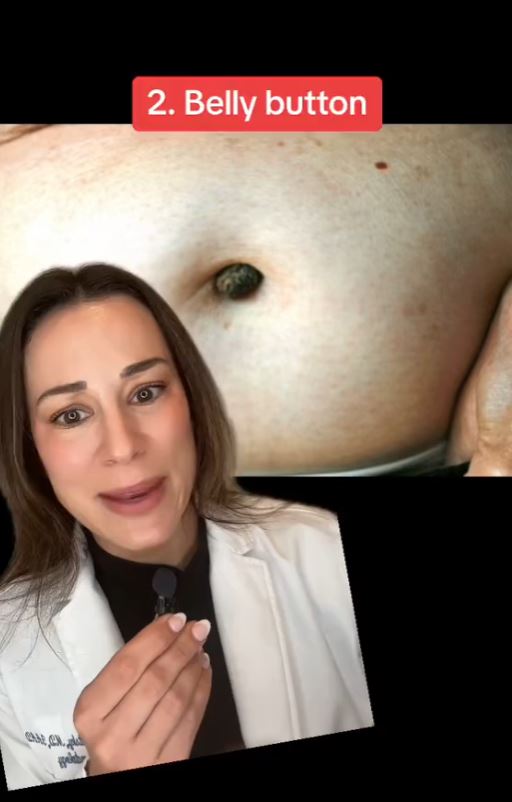 She added: 'In fact, if you're not cleaning it enough it will build up so much debris and dirt in there that you can develop a navel stone that looks like this'.
She also shows an image of what a navel stone looks like and highlights that inadequate cleaning can lead to the accumulation of debris and dirt, which can create a navel stone.
Under your fingernails: 
She continued to warn you had not cleaned our fingernails enough. She also advised that you should use a scrub brush during your shower is recommended to remove dirt, debris, and buildup.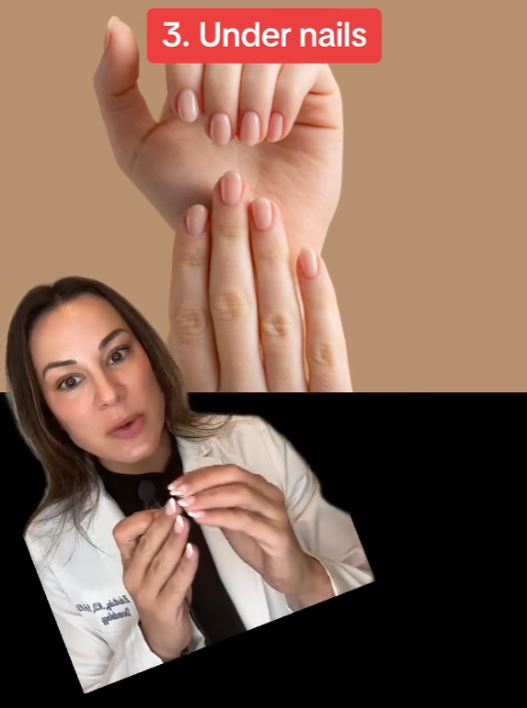 The dermatologist mentioned that these three areas are often breeding grounds for MRSA, a type of antibiotic-resistant staph bacteria that can lead to stubborn infections.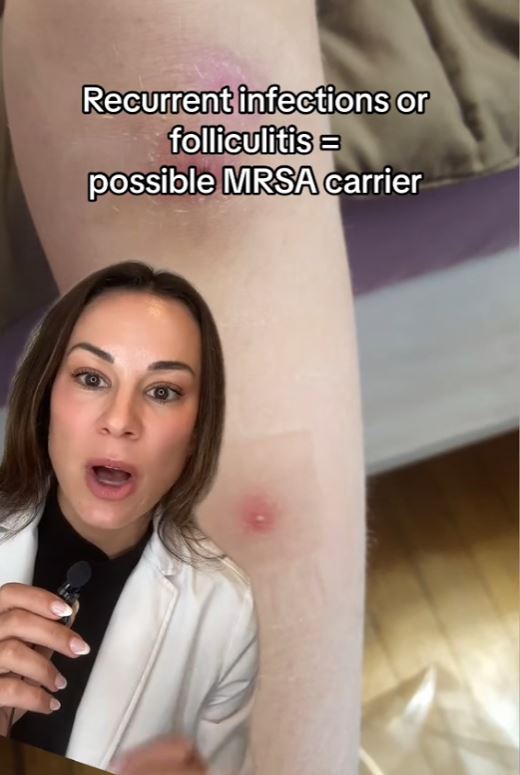 Your feet: 
In her second video, she continued to emphasize the importance of thorough foot cleaning. She stressed, 'Number one is your feet. They are easily one of the dirtiest places on our body, so we need to make sure we're washing them correctly.'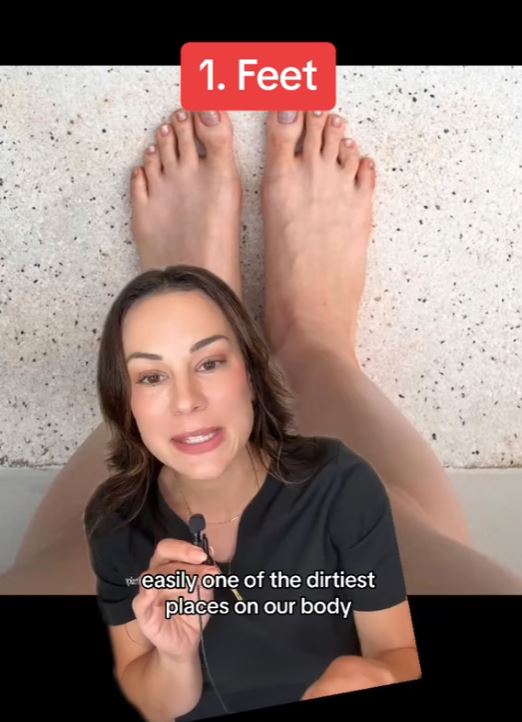 If you don't clean between the toes, it can make you vulnerable to bacterial infections like Pseudomonas staph or fungal infections like tinea.
The back of your neck 
Another commonly overlooked area the dermatologist mentioned is the back of your neck. 
This region often goes unnoticed during cleaning routines, leading to the accumulation of dirt and impurities.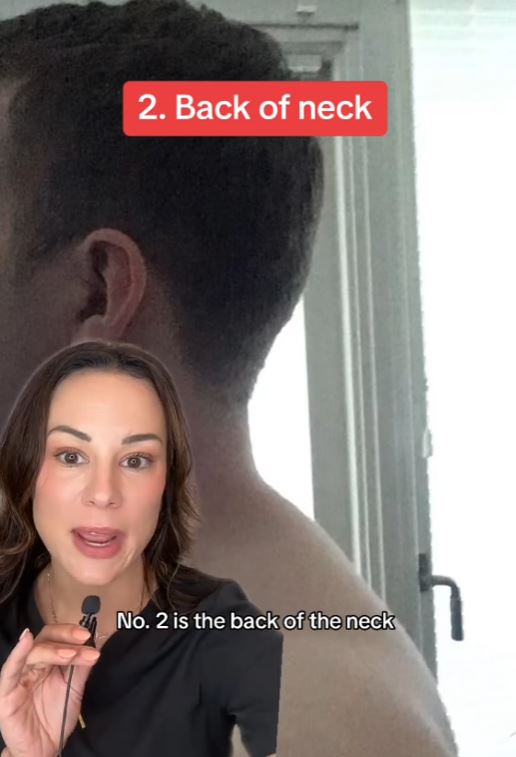 She emphasized that the back of the neck, being a warm and moist area where hair tends to rest, is particularly susceptible to neglect. Neglecting this area can result in the development of what's known as 'terra firma-forme'.
Terra firma-forme dermatosis is a benign skin condition that makes patches on the skin look as if they are dirty.
Your elbows
Finally, the dermatologist pointed out that many people fail to adequately clean their elbows. Elbows regularly come into contact with various surfaces throughout the day, potentially accumulating dirt and dead skin cells. Consequently, they may appear darker and drier than the surrounding skin.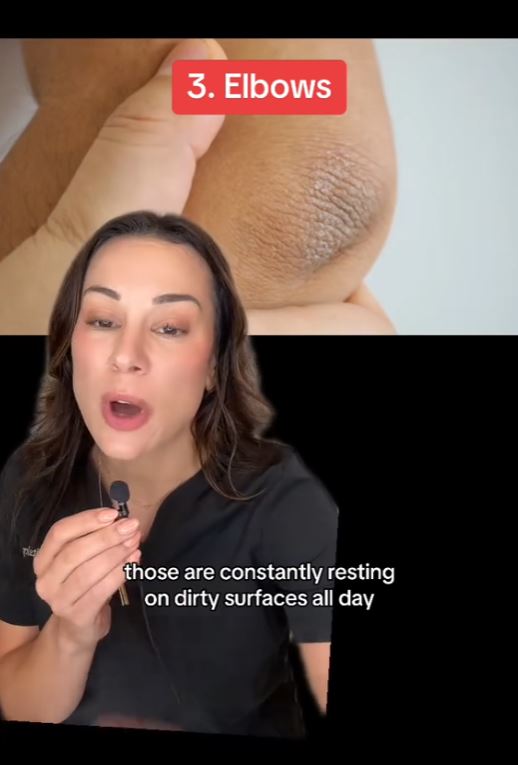 Her video quickly went viral and garnered over 3.3 million views in the past week, leaving many users stunned by her advice.
One person said: Start with your face, neck, and hair, then work your way down. A clean washcloth every time. A back brush for those hard-to-reach places, like the soles of your feet. You know it makes sense.
A second wrote: Difficult to see how you could wash your hair regularly and properly without doing it behind your ears at the same time?
A third commented: I wash behind my ears every day and they still have an odor. 
Someone else said: This is why washcloth is important. Grew up in the Caribbean and we used the washcloth to clean our ears and crevices.