Murray enjoys taking walks with his owner and other canine family members. He often says hello to passing dogs as well.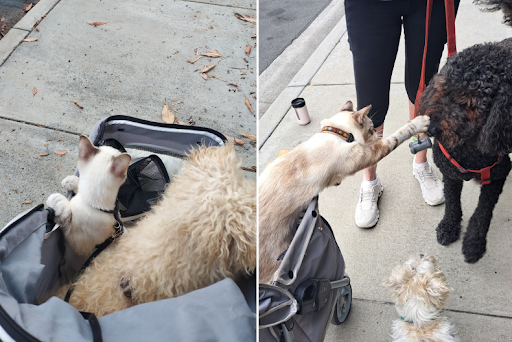 He had been residing in the city's center since his owner could no longer take care of him. In order to spread the word, a neighbor posted a request on the Nextdoor app, asking whether anyone would be able to look after Murray until a permanent solution could be found. Russell went to assist after noticing the message.
Yet as soon as she met Murray, she realized that this foster placement would not be temporary: "It became permanent since I first set eyes on this gorgeous boy," she said.
The household also includes a Chihuahua/Maltese mix named Kai, a Poodle/Poodle mix named Tica, apart from Murray the cat. When Murray moved into the house, Tica was 16 years old and used a stroller to go for walks after losing the majority of her sight.
Russell reasoned that Murray may enjoy traveling with the puppies and her as well. "I had been informed that Murray used to accompany his previous owner in a sling-type carrier on numerous occasions, including popping into a tavern or two," said Russell.  "I added Murray to the mix in the stroller with Tica and he immediately loved it."
Murray and the other dogs continue their adventures even though Tica passed away in 2022 at the age of 17.
"Murray follows the dogs down the stairs as soon as he hears me tell them it's time to go to the park. He is eager to go," Russell said. "In order to keep him safe in the stroller, I do put a collar and leash on him. Although he is a really excellent boy, I want to be cautious and not worry that he would jump outside in a panic to pursue a lizard or bird."
Murray and his canine buddies enjoy exploring the neighborhood because aswe  live close to a large park with plenty of green space.
Russell observed, "He swings his tiny arm over the edge of the stroller like he's driving a sports car. He wears a scarf that a neighbor crocheted for him on chilly days; of course, it is blue to go with his eyes."
Murray is a big fan of saying hello to people and pets and will engage with practically everyone who does so.
"Murray is very caring and is a terrific ambassador for cats everywhere. I hope that after meeting him, anyone who was previously afraid of or misunderstood cats will have a change of heart," Russell remarked. "He is an exceptional cat, and I consider myself really lucky that we connected. He makes the world a very happy place."