The 48 hours following the collapse of Silicon Valley Bank were the worst time of their life for some Vietnamese engineers until they heard they would not lose everything.
When she heard about the bank going under, Phuong Thanh, co-founder and CFO of a Silicon Valley robotics startup, says she was shell-shocked.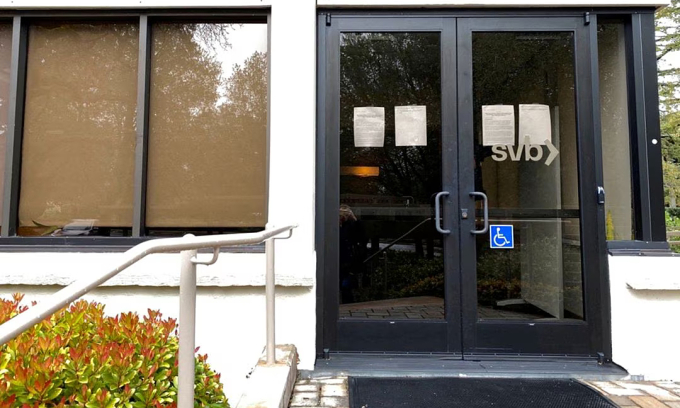 "At midnight on March 9 I received a text message from a co-founder regarding the risks posed to Silicon Valley Bank (SVB). The management board held an emergency meeting in the middle of the night to discuss the worst-case scenario."
After the meeting the board decided to withdraw all the company's money from the bank. But the worst-case scenario came to be: no transactions could be made.
On March 10 Thanh went to the bank only to find it locked. Many other customers who are business owners were also standing outside.
"When news about SVB going under was announced, it was like my body was drained of all oxygen," Thanh says.
"All of our company's properties and startup funds are in there. Over 50 people are waiting for their salary, which is supposed to be paid in the next few days. The startup was facing the risk of collapse."
Thanh and the rest of the board considered several measures to salvage the situation, including paying workers from their own pockets, borrowing money or laying off people. The worst case would be bankruptcy and shutdown.
Thanh says the 48 hours after she heard the news were the worst time she has ever experienced since arriving in the U.S. to chase her startup dreams.
Tu Tran, an engineer at a startup working on AI, says the news came to him as a huge shock, like "thunder booming next to my ears."
"I was exhausted after finding this job after I was caught in the historic waves of layoffs. If this company faces issues, new workers like me will be the first to go."
After being laid off from his last job, Tran felt like he was "thrown into a lake, but luckily got hold of a plank." But he felt like the plank might be sinking as well.
The fall of SVB might be the final nail in the coffin for many engineers in the U.S. on an H-1B visa like him.
"Everyone in my family knows that if I cannot stay at this company we would have to leave the U.S."
Not all is lost
Hope came finally on Monday when Tran heard the government will make sure SVB customers do not lose their money. It means Tran's new company might just survive.
He received a message from his boss in the company group chat after two days of deafening silence saying: "It's alright now. We are saved. Everyone please come for work as usual."
Thanh says she "came back to life" after hearing that the money she had deposited was safe.
"What a memorable 48 hours. It was like I was at the edge of a cliff where I could lose everything, but everything has come back to me."
She now plans to withdraw the money and spread it in multiple places.
Le Van Thanh, a solutions engineer at Google, says people could seek help from the community to find new jobs during earlier layoffs. But in the SVB incident startups are hesitant to speak up and ask for help since they are worried their companies' activities might be further disrupted if they speak up, he explains.
"If they are not promptly supported, small startups with a workforce of less than 100 people will be vulnerable.
"This catastrophe might push back the progress of startup companies by 10 years."
The sudden collapse of Silicon Valley Bank last week sent shockwaves through the startup community, which has come to view the lender as a reliable source of capital, particularly for some of tech's biggest moonshots, Reuters reported.
The bank has been central to the survival of many early stage companies due to its reputation for taking bets on startups that may have had little chance otherwise since larger banks find them too risky.