Although there are many appropriate penalties for violence against animals, it seems that many people still ignore the warnings. This time, the victim was a wild dog thrown into a hole in the asphalt in Montechigolo, Argentina.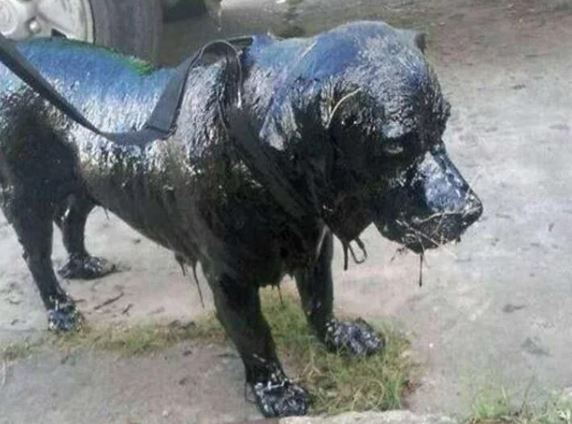 The dog was found in early May, covered in asphalt. It is known that the first people to discover it were two young boys who were wandering the streets when they saw a painful creature crawling through a hole. Shortly thereafter, the two boys called an animal sanctuary in town to save the poor dog.
Because the bitumen was so strong, animal care workers had to use up to 5 liters of oil to remove the black plastic layer from the dog's fur. Finally, after 5 hours of bathing, it was also cleaned. Mr. Myriam Ortellado, an employee at the Monte Chingolo Security Centre, said a layer of asphalt covered the dog's body.
Therefore, he believed that it was thrown into the tar pit and did not fall in by accident. After arriving at the center, the dog was given the name DAU, which is derived from the name of the solution used to preserve it.