Sophie Alcock, 20, recorded the moment she was informed that she was fired by her former boss at Toast in Withington, Manchester. She expressed how furious she was about being fired after just two weeks.
In the video, she reveals that she has discouraged people from visiting the establishment to negatively impact the business in retaliation. The reason for her termination was allegedly due to phone usage on the job.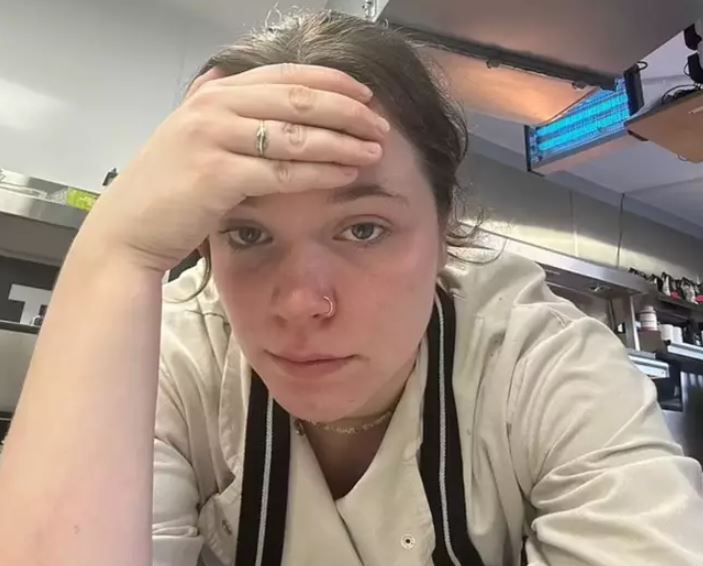 "The way he fired me was so unprofessional, and he couldn't provide me with a just cause,". In an interview with Kennedy News, Alcock shared that she had informed others not to visit the business so that it "suffers." 
On July 6, the disgruntled ex-employee stated that she informed the cafe owner, Matt, about her potential distraction due to anxiously awaiting her degree results. According to her, it was the first and only time she had met Matt, and he appeared to be "fine" with her work performance during that time."
However, in the evening as she was leaving work, Sophie was informed by another staff member about a 'rumor' that she was getting sacked.
This enraged her, Sophie went to confront Matt the next day and she secretly recorded the moment he fired her.
According to Matt, Sophie had been on her phone for 'four hours'. However, Sophie disputes this claim, stating that her phone records show she was only on her phone for two hours and 50 minutes that day,  and some of that had been before and after the shift.
She said: "I left work in tears. I was very anxious because I didn't know if I was fired, it was a rumour."
Sophie also admitted that she frequently used her phone during work. She estimated that it amounted to 'around an hour' in total during her nine-hour shift.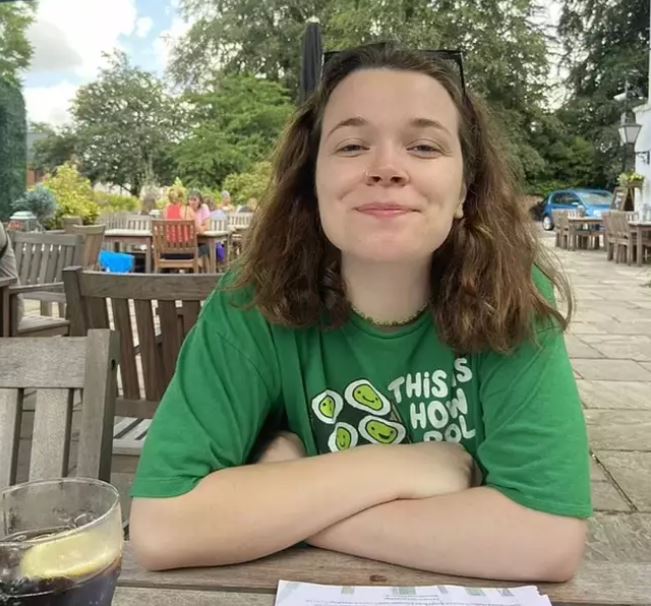 Despite admitting that she took two 10-minute breaks to eat and check her exam results, which she considers to be 'extenuating circumstances', Sophie felt the need to justify her phone usage.
Although she admits her shift wasn't perfect and believes she could have performed better, she argues that her boss could have communicated his desire for her to do more work and not sack her.
He tells Sophie that he 'can't have someone doing that little amount of work' at the business.
He accuses Sophie of being on her phone for four hours and not demonstrating that she's a hard worker.
During the confrontation, Sophie cuts in to ask Matt if he 'always interrupts women' and he says he doesn't like where the conversation is going.
She tells him that she asked for permission to take breaks and there was 'extenuating circumstances' as she wanted to see her degree results but Matt says it's 'not his problem' and it shouldn't have been done on his time.
He eventually tells Sophie that she isn't a fit for the business and she says that she's going to tell her friends to avoid the coffee shop.
Matt tells Sophie that he cannot tolerate such a low level of work at the business. He accuses her of spending four hours on her phone and not showing dedication as a hard worker.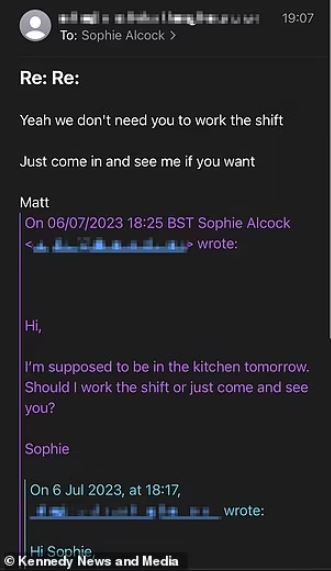 Alcock claims that Matt frequently interrupted her, even her to question if he "always interrupts women" when they speak. He responds that he dislikes where the conversation is going.
Despite explaining that she had asked for permission to take breaks and had extenuating circumstances, such as wanting to see her degree results, Matt dismisses her concerns, stating that it's 'not his problem' and it shouldn't have been done on his time.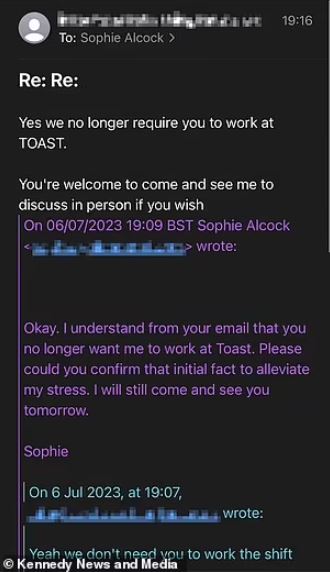 Eventually, he informs Sophie that she is not a good fit for the business, to which she responds that she will tell her friends to avoid the coffee shop.
"It wasn't really a conversation, it was me getting upset and him saying he didn't like where the conversation was going," she said.
"He basically said I was lazy, and it was the worst day of work he'd ever seen, but everyone I know will testify that I'm not a lazy person."
While she admits she "could have performed better," she didn't think it was fair to fire her "out of the blue because of one day of work."
"I'm not saying my shift was perfect, but I had extenuating circumstances," she argued. "He could have told me how he wants his kitchen run, but he just fired me."
Watching the video below: