The sweets-loving bear, nicknamed Juan Carrito by locals, was lured with bait, sedated, and then airlifted by helicopter to a remote part of the national park in the Apennine mountains.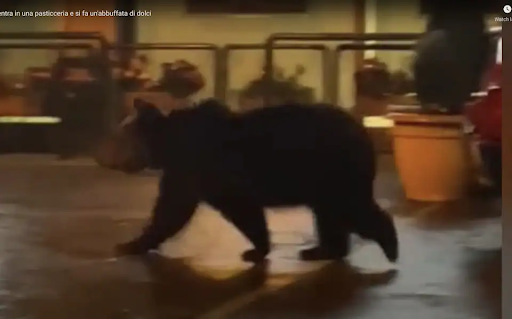 Juan Carrito wandered the town and broke into a pastry shop to steal cookies.
The 2-year-old bear became famous after appearing in villages, drinking from public fountains on his hind legs and even breaking into a bakery in the town of Roccaraso.
Photos taken by the bakery owner Dolci Momenti show the chaotic scene, with metal trays and cookies fallen across the floor. Marina Valentini, the co-owner of the bakery with her husband, said: 'The bear broke the window, took a tray from the oven and ate the cookies we prepared that afternoon.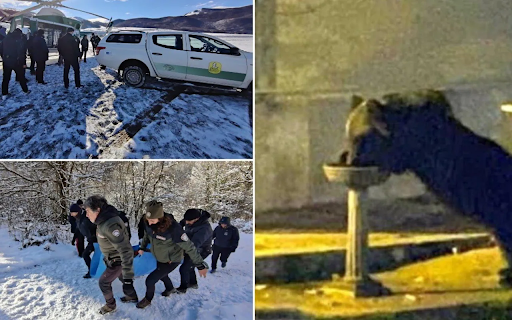 The 2-year-old bear was then brought back to the national park by helicopter.
Francesco Di Donato, the mayor of Roccaraso, said in November after the bear was accused of theft: "The bear was becoming panic because it is around people, and we hope it will go into hibernation soon. The ski season is about to start and a lot of visitors will come."
Although many locals love Juan Carrito, wildlife officials decided to "forcibly remove" him because Carrito's familiarity with the habitat and food sources could pose a danger to the.people.
"If it were other parts of Italy or other countries, a bear like Juan Carrito might have been in captivity," the national park authorities stated.
After much evaluation, the experts decided to release Carrito to the forest, although it is possible that he will easily find his way back to town. As a precaution, Carrito will be fitted with a GPS collar.
Juan Carrito - known to biologists as M20 - is a Marsican bear, a rare subspecies of Eurasian bear found only in the Apennines. There are only about 50 left in the wild and most of them live in the Abruzzo, Lazio and Molise National Parks.