Soccer players and fans are in a state of disbelief when the failure of the referee and his officials to recognize a goal, despite the ball clearly crossing the line by approximately half a meter. 
Within the first 10 seconds of their Chilean Cup match against Unión La Calera, Colo-Colo defender Alan Saldivia made a misplaced pass back to goalkeeper Fernando de Paul 
Although de Paul's efforts to prevent the ball from crossing the line, he was unable to reach it in time and kicked it away after it had already crossed over the line.
Upon seeing the ball cross the line, some of La Calera's players initially celebrated, only to abruptly halt their celebrations when they noticed that referee Víctor Abarzúa hadn't signaled for a goal and Colo-Colo continued playing.
To make matters worse, La Calera, before they could present their argument to the officials, Colo-Colo took advantage of the situation and swiftly counterattacked and scored. They promptly scored, leading to a 1-0 scoreline.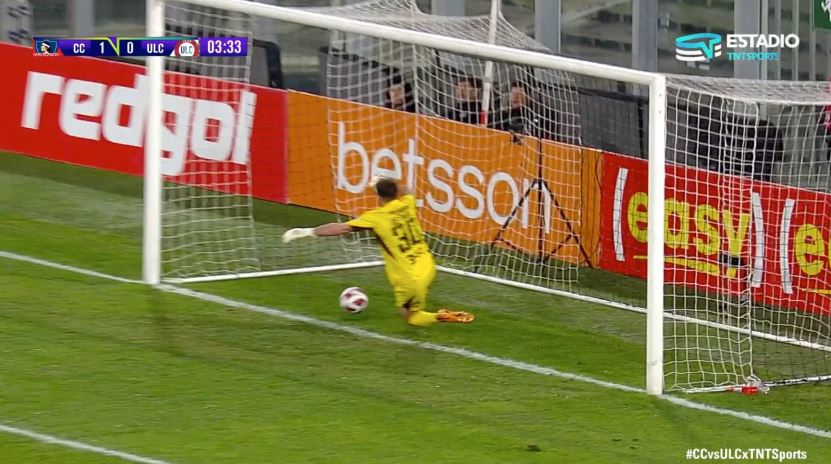 Adding insult to injury, La Calera had to face the rest of the match with only 10 players. La Calera ended up with a 6-1 defeat, while Colo-Colo advanced to the regional semifinals. 
It is worth noting that some stadiums in Chile, including the Estadio Monumental where this match took place, have video assistant refereeing (VAR) capabilities. However, VAR is not utilized during the preliminary stages of the Chilean Cup.
Roberto Tobar, the head of Chile's refereeing committee, explain that attributed the mistake to the referee and his assistants' lack of concentration. However,  this explanation is unlikely to provide any solace to La Calera fans.
According to La Tercera, Tobar said 
"Regrettably … a quite obvious error was committed by the refereeing team in not sanctioning a legitimate goal for Unión La Calera after an own goal by a defender of Colo-Colo," 
"This type of situation, which very rarely occurs within 10 seconds of the start of a match, means that the referees are not 100% activated and, as a result, are not in an appropriate position to make the best decision.
"Situations that are unexpected are when concentration and a good location take precedence to make a very good decision,"