Being angry with her boyfriend, a young woman ascended an 80 feet high-intensity electricity tower in Gaurela Pendra Marwahi district of Chhattisgarh, India.
The video of the couple quickly went viral on social networks.
Some villagers noticed the couple climbing the tower and promptly alerted the Pendra police station.
Police officials engaged in lengthy negotiations and even contacted their families for assistance to persuade the couple to descend from the tower.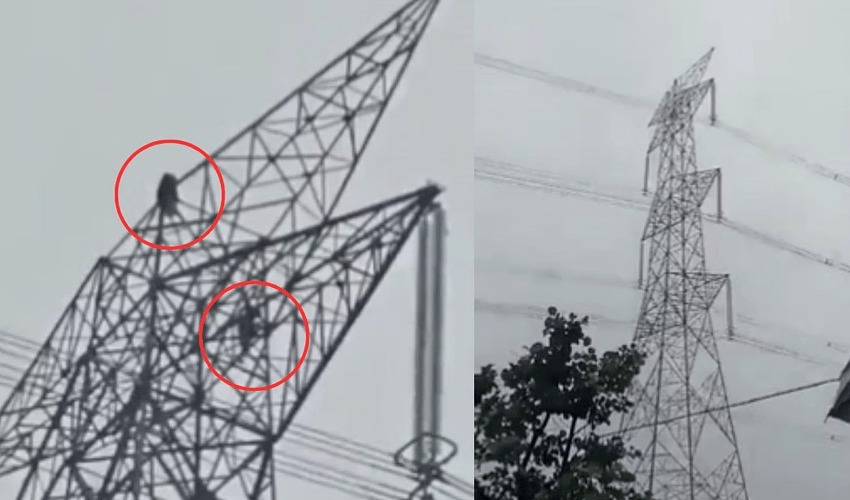 The video of the incident has gone viral and drawing a lot of reactions from netizens. 
One user humorously quipped, "Couple Goals."
Another user commented: "An electrifying love story!" 
A third user playfully remarked, "Power couple." 
"Thank the government of Chhattisgarhas no power was moving in wires.", another said.
According to reports, Anita Bhaina and Mukesh had been in a relationship for a year but disagreed on Thursday that escalated into a confrontation.
Frustrated by the situation, Anita walked toward the tower and climbed it to commit suicide. Mukesh followed her, attempting to persuade her to come down safely. 
Similar cases have occurred in the past. In 2017, a man climbed a mobile tower  to demand a ban on alcohol.
Last year, a woman who had climbed a power tower because of her husband's drunken violence. In August, a man staged a demonstration on a 50-foot-high tower for an hour, demanding improved road infrastructure.