Emily Hampshire, known for her role in "Schitt's Creek," has apologized for dressing as warring exes Johnny Depp and Amber Heard for Halloween.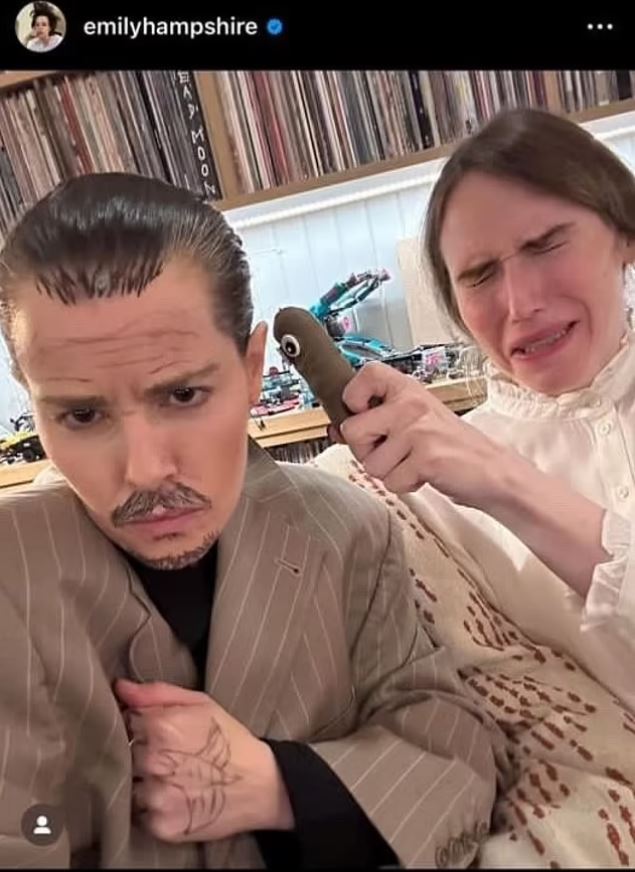 In an image posted on her Instagram,  she and a friend dressed as the former couple Johnny Depp and Amber Heard. 
The costume drew criticism from fans, leading Hampshire to release a statement of apology on Wednesday.
She also claimed that the costume was  'most thoughtless, insensitive, and ignorant things'  she had ever done.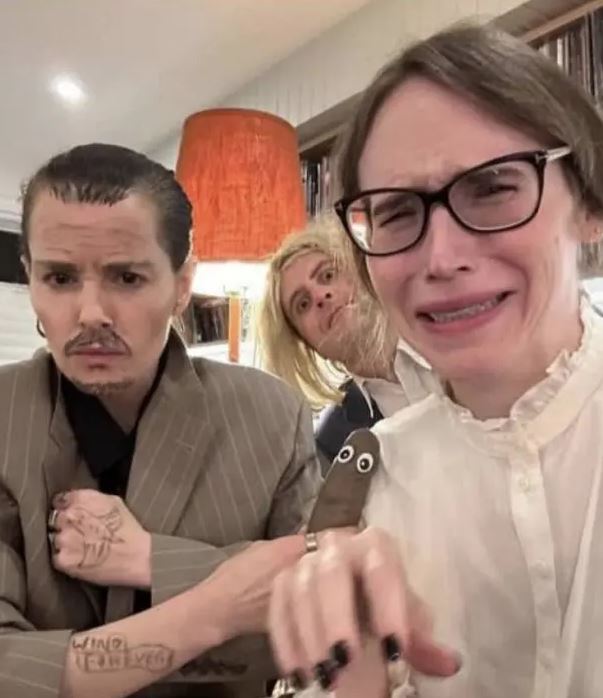 'I want to address what is one of the most thoughtless, insensitive, and ignorant things I've ever done. For Halloween, I stupidly thought it would be funny to dress as Johnny Depp and Amber Heard,' she posted to her Instagram. 
'I am deeply sorry and ashamed for putting something that awful out in the universe. Domestic abuse is never, ever funny,' she continued. 'These are real issues with real people and I REALLY regret my actions. In the future, I will do better. I'm sorry.'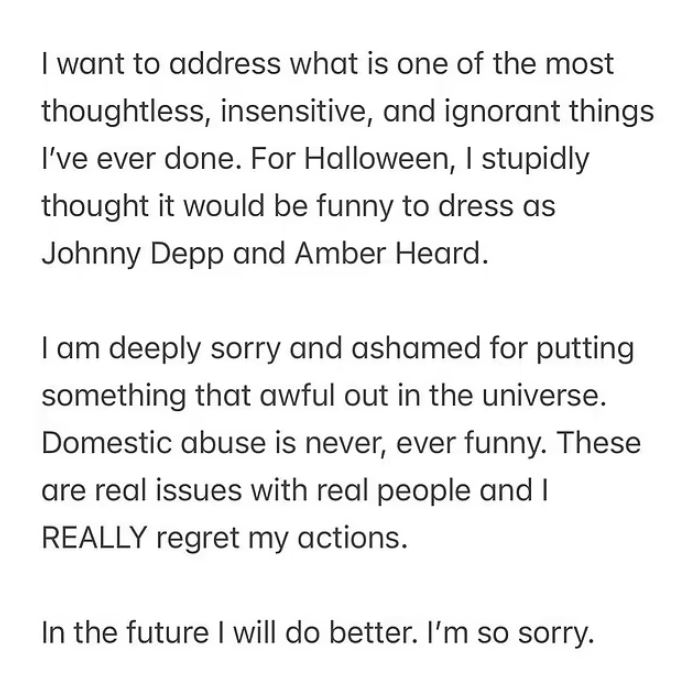 The initial costume featured several props alluding to the contentious defamation trial that transpired last year, including a plastic turd that was placed within Emily's attire.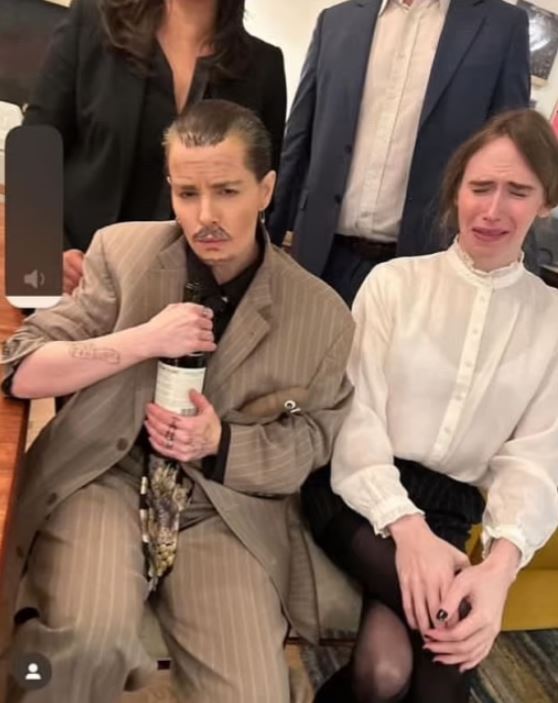 During the Halloween event, the Canadian actress adopted the appearance of Depp, sporting a drawn-on mustache, tattoos, slicked-back hair, a sports coat, and a bottle of wine. Alongside her, her friend portrayed a weeping Amber Heard and even held up a mock piece of feces.
After Emily Hampshire shared her image of dressing as warring exes Johnny Depp and Amber Heard for Halloween on her Instagram, Schitt's Creek star Emily Hampshire apologized for her 'insensitive' Johnny Depp-Amber Heard Halloween costume.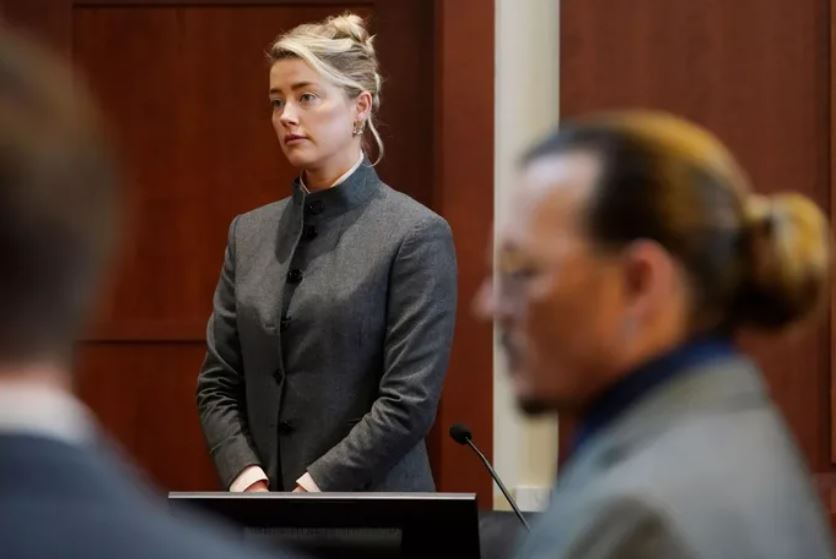 Emily Hampshire received criticism from fans, and another user on the X platform re-posted the images while expressing their disappointment. The criticism further spilled over onto the social media site Reddit.
Someone said: A handful of people are "offended" and you automatically have to apologize...
Another added: Love how she describes it as one of the biggest and most embarrassing things she's ever done. How pathetic.
While some other supporters found the outfits amusing.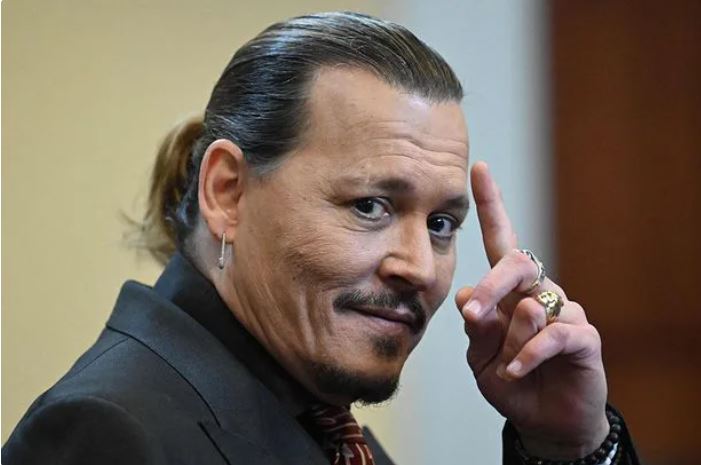 One person said: So the whole country treated the trial like a sideshow, but Halloween costumes of them are in bad taste? You'd think that watching the breakdown of a marriage like it was a reality show would be worse...
A second wrote: Oh come on the two of them are train wrecks we are going to start canceling her I think it was brilliant and funny! Get a sense of humor people!  
A third commented: Oh holy hell...stop catering to the 1% of crybabies and just do what you want. This is hilarious.
Others said: Under fire? It's HALLOWEEN! It's not that serious people! Who has the right to call out someone for their Halloween costume? They can dress however they please.