In Bali, homeowner Hari Toae discovers an 'alien-like' creature scurrying across his ceiling. It had two wings and four tentacles of different lengths, the creature appeared to be moving upside down while gripping the ceiling. This bizarre creature caused bewilderment at this unusual sight within their homes.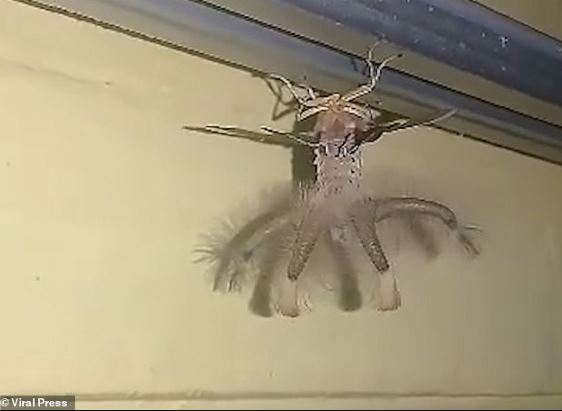 Hari is unable to identify the winged creature, but he described it as 'looked like an alien'. He believed that the creature appeared to be seeking shelter due to the rainy weather that night as if it was in search of a secure place to stay.
He said: 'I will let it stay in my house, but only for the night. I don't want it to scare my guests away.' 
According to Daily Mail, this creature is a possibility that this creature belongs to the Arctiinae family of moths. Additionally, it bears certain resemblances to a species known as Creatonotos gangis, which is native to Southeast Asia and Australia. 
The shared video displays a creature with wings and four tentacles, which serve as scent organs. These organs play a crucial role in the production of pheromones, a chemical substance used to attract mates.
Shortly after, a video of the creature went viral on social networks. Lots of people are talking about it, wondering about its identity
Watching the video below: