A tourist was called an 'idiot' after attempting to take a selfie on a stone pier and experiencing a dangerous fall incident from a massive wave during Storm Ciaran.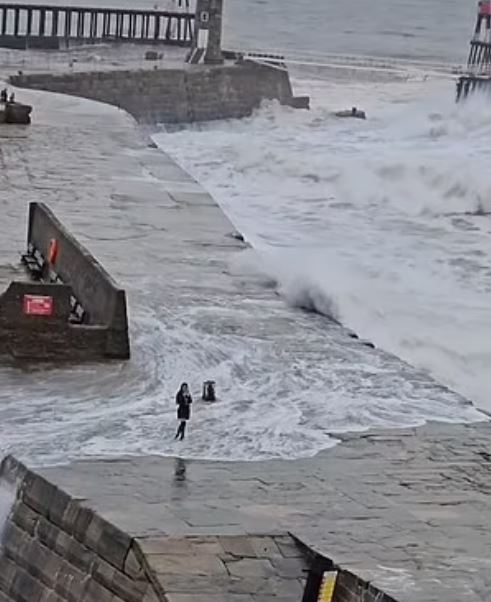 A video shared on social media records the woman, who has been criticized for her actions, as she is being swept off her feet by a treacherous wave on Sunday.
The force of the wave knocks her to the ground, but she quickly regains her footing, narrowly avoiding being dragged into the turbulent sea.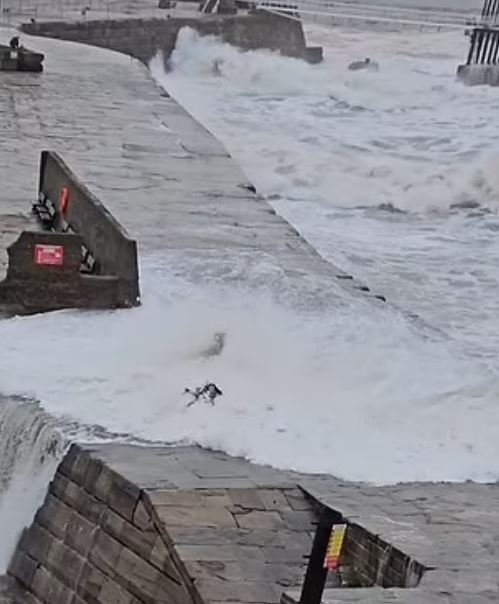 In the footage, she is seen knocked to the ground by the powerful wave, but she quickly regains her footing, narrowly avoiding being dragged into the turbulent sea.
Moments later, she is completely drenched from head to toe and then steps along the pier to reach safety.
The warning was issued after numerous people were observed walking along the East Pier in Whitby, North Yorkshire while taking selfies.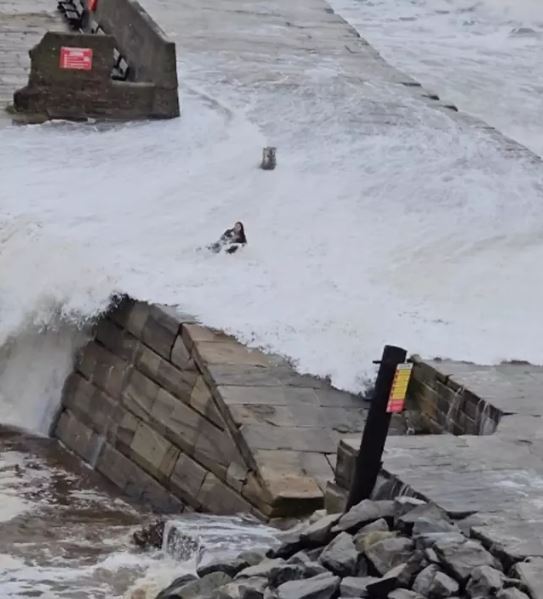 Steve Hart, senior operations officer for HM Coastguard, emphasized the importance of avoiding unnecessary travel or coastal visits by advising:  'Our advice is if there is a storm weather warning in place and if you don't need to travel, just stay in.'
'It's not worth risking your life for a picture or a selfie and it's not worth risking our volunteer's lives either, who would potentially have to go out on a rescue and pull you out of the water.
This is not the first time a 'careless' tourist has faced criticism; another video, shared on X by The Whitby Photographer, shows the woman walking on the pier and being knocked down twice.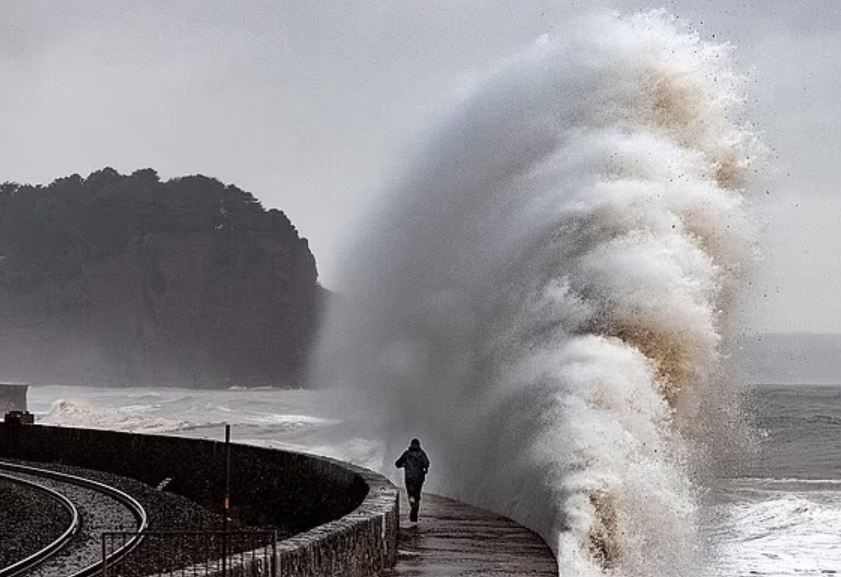 A similar video sparked debate on social media, showing a man in swimming trunks jubilantly whooping as powerful waves crash around him on the coast of Jersey in the Channel Islands.
Another video shows multiple people, including young children, walking along the pier before the coast guard storms in to rescue them from the waves on Sunday. Comments on the footage label the storm-chaser as an 'idiot.'
Watching the video: 
One person said: That pier actually scares me. She's bloody lucky she didn't go in because that would have been it.
A second wrote: The point is that others have to risk their own lives to save these specimens of failed evolution. Leave them to it and walk away.
A third commented: The emergency services have better things to do than to be called to rescue someone who puts themselves in harm's way.
Someone else said: Do those types of people not realize that they put their own lives in danger but the rescuer's life also if they have to be rescued?
Watching the video: